September 2023
September 2023 Visa Bulletin Highlights
Family-Sponsored Second Preference (F2A) Retrogression: A significant update has been made regarding the F2A category. A cutoff date of 09/01/2023 has been assigned to the dates of filing chart. This indicates that I-485 based on F2A should be filed within this month, August 2023.
Steady Employment-Based Number Use: Employment-based number utilization by both USCIS and the Department of State has remained consistent throughout the fiscal year. Consequently, numerous employment-based preference category limits for FY 2023 are anticipated to be reached in September. Upon reaching these annual limits, the respective preference category will immediately become "unavailable," and further requests for numbers will be halted.
Numerical Limits Determination by the State Department: The State Department is mandated to annually determine the worldwide numerical limitations under the Immigration and Nationality Act (INA). This decision is influenced in part by data from the USCIS regarding the prior year's immediate relative adjustments and aliens paroled into the U.S. two years earlier under Section 212(d)(5). In the absence of this data, an official determination of the annual limits is unfeasible. To avoid processing delays, the Visa Office (VO) approximates based on expected visa number availability, as directed by Section 203(g) of the INA. On August 2nd, USCIS provided the VO with the necessary data.
FY-2023 Numerical Limitations: The Department of State has confirmed the numerical limits for FY-2023 in line with Section 201 of the INA:

Worldwide Family-Sponsored preference limit: 226,000
Worldwide Employment-Based preference limit: 197,091
USCIS announced that for September 2023 applicants in all family-sponsored preference categories must use the Dates for Filing chart and applicants in all employment-based preference categories must use the Final Action Dates chart.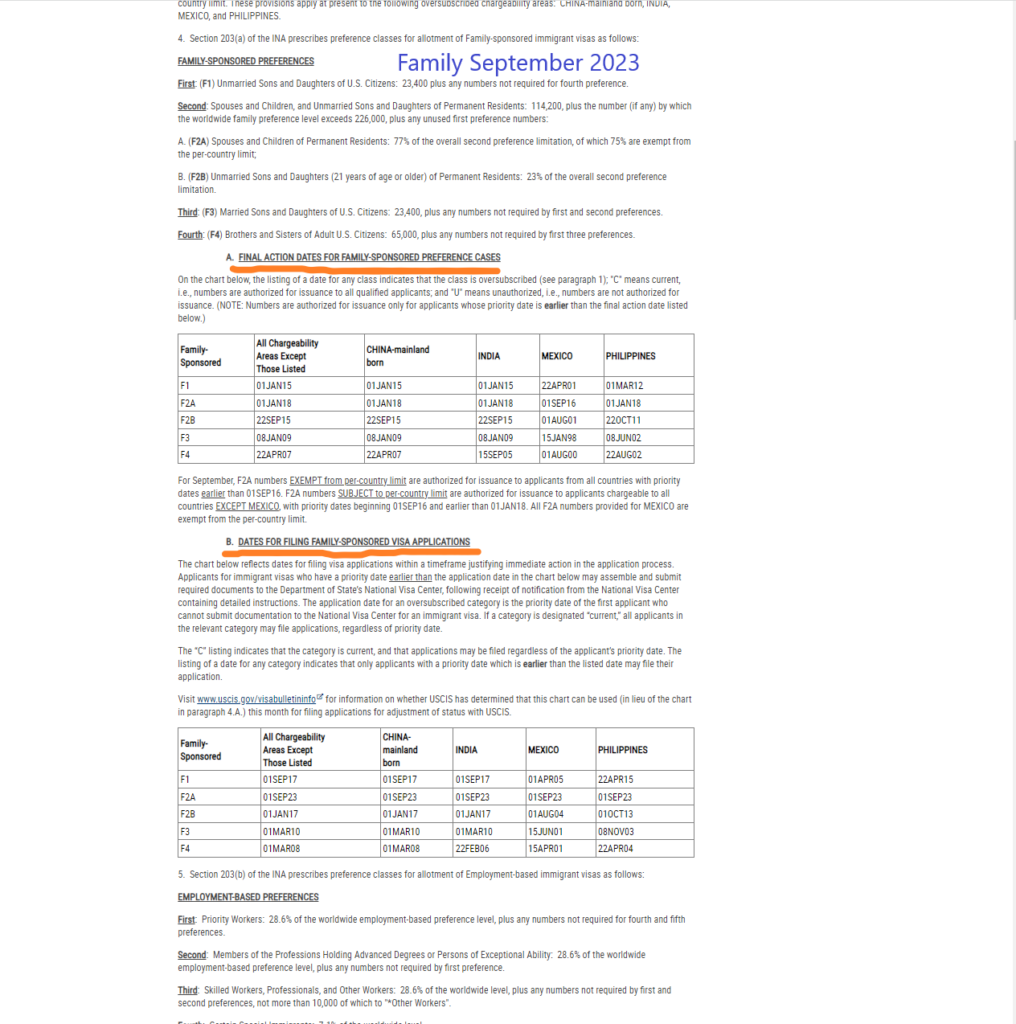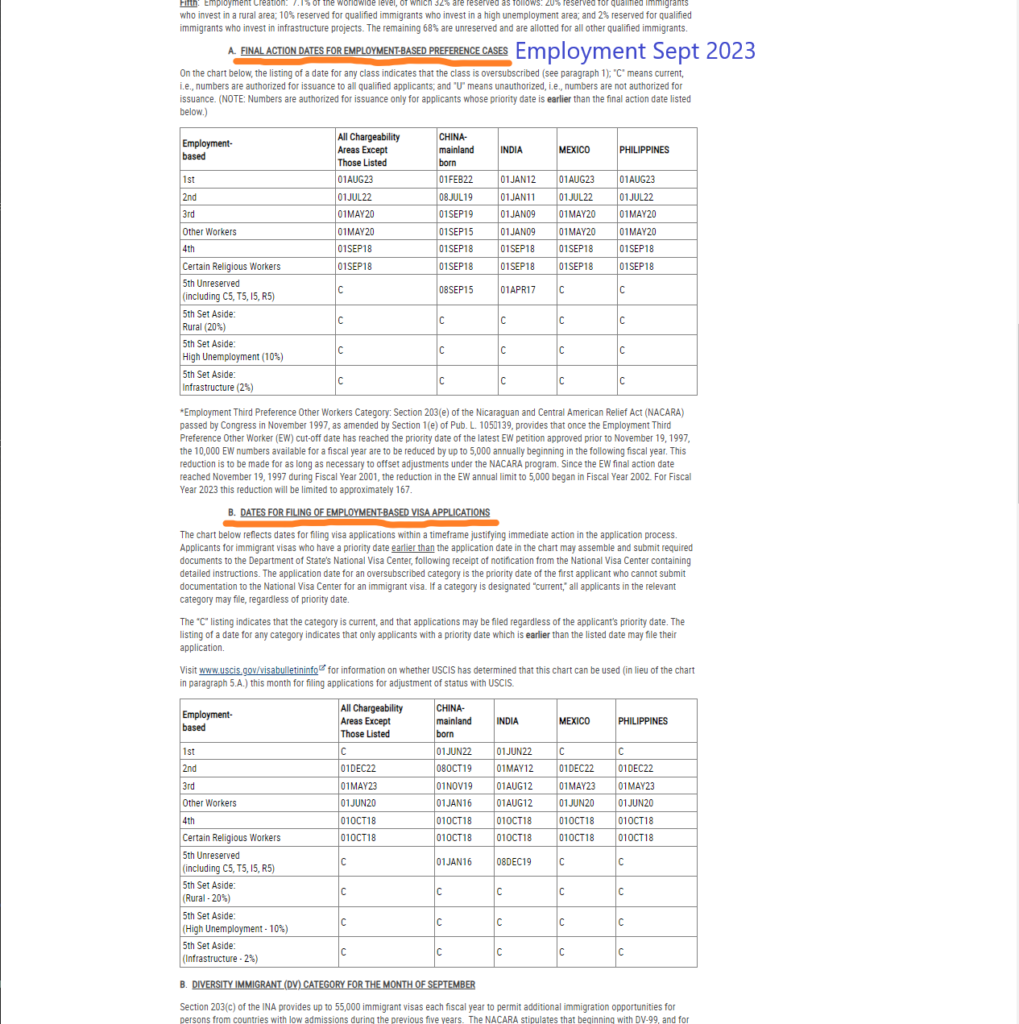 August 2023
August 2023 Visa Bulletin Highlights
Family-Sponsored Second Preference (F2A) Retrogression: To align with FY-2023 annual limits, retrogression has been applied to F2A category. F2A numbers exempt from per-country limits are available for applicants with priority dates earlier than 01SEP16.
Employment-Based First Preference (EB-1) Final Action Date: Due to high demand, a final action date for EB-1 has been set for Rest of World countries, Mexico, and the Philippines, effective in August. The category is expected to return to "Current" for these countries by October.
EB-1 Retrogression for India: Because of oversubscription, the EB-1 final action date for India has been retrogressed to 01JAN12, effective in August. The date may potentially advance in October.
EB-3 Retrogression for Rest of World, Mexico, and Philippines: Owing to high demand, the EB-3 final action dates for these regions have been retrogressed to 01MAY20.
Continual monitoring and necessary adjustments to these categories are expected.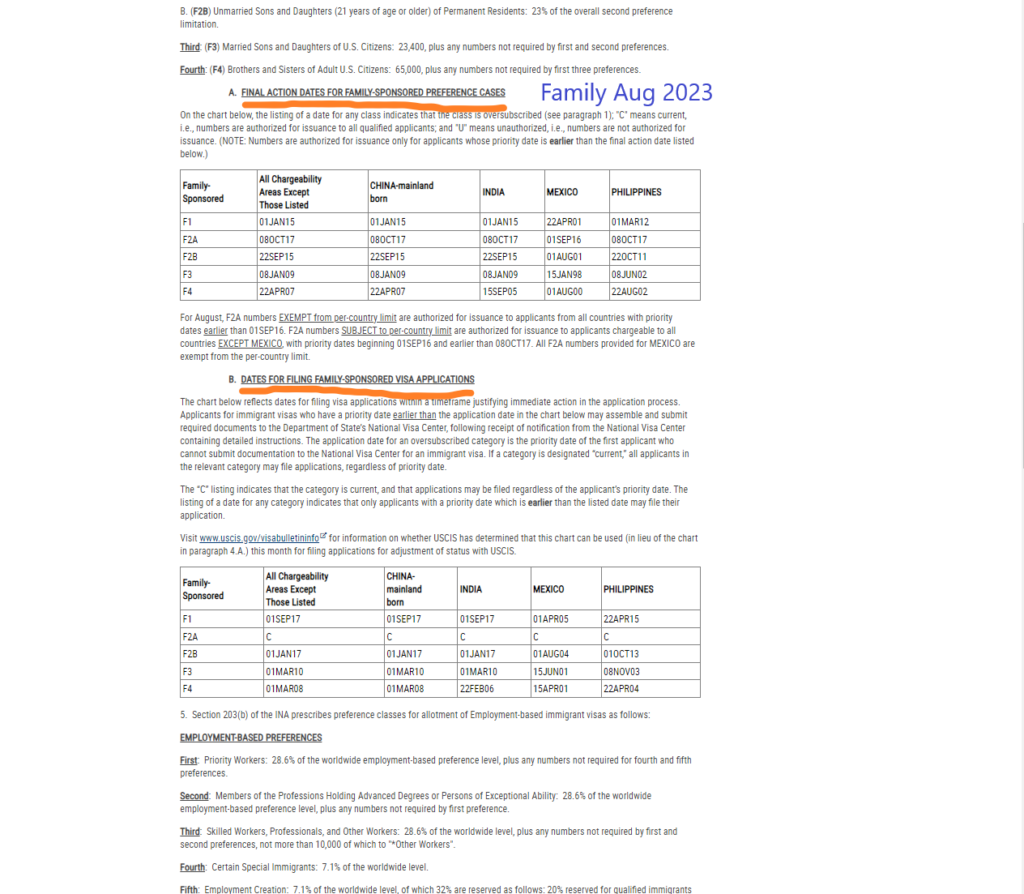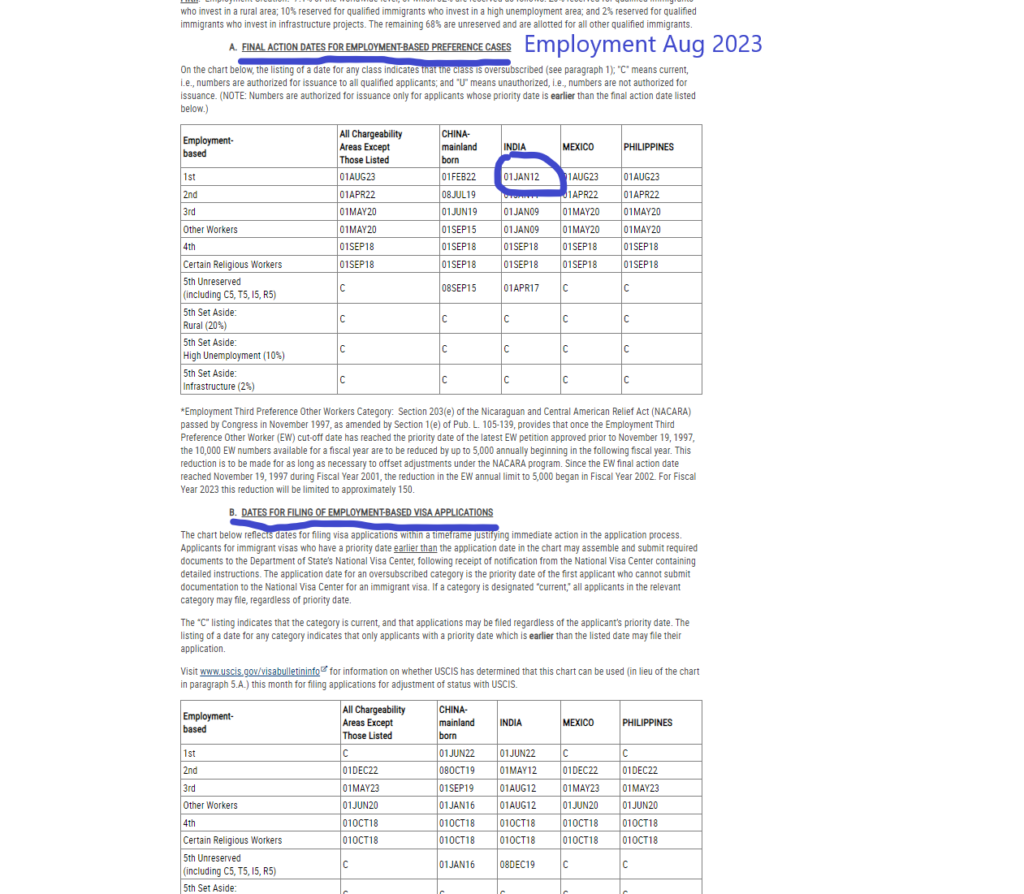 May 2023
You can still file I-485 (F2A) in May.
Pretty much bad news across the board, except for EB-3 (China) as they see significant forward advancement.
EB-1 for China and India will continue to retrogress. So will EB-2 rest of the world (ROW). EB-3 (ROW) may see a cutoff date. EB-2 (India) and EB-5(India) will continue retrogressing.
Outlook for EB-3 (other workers) is deteriorating too.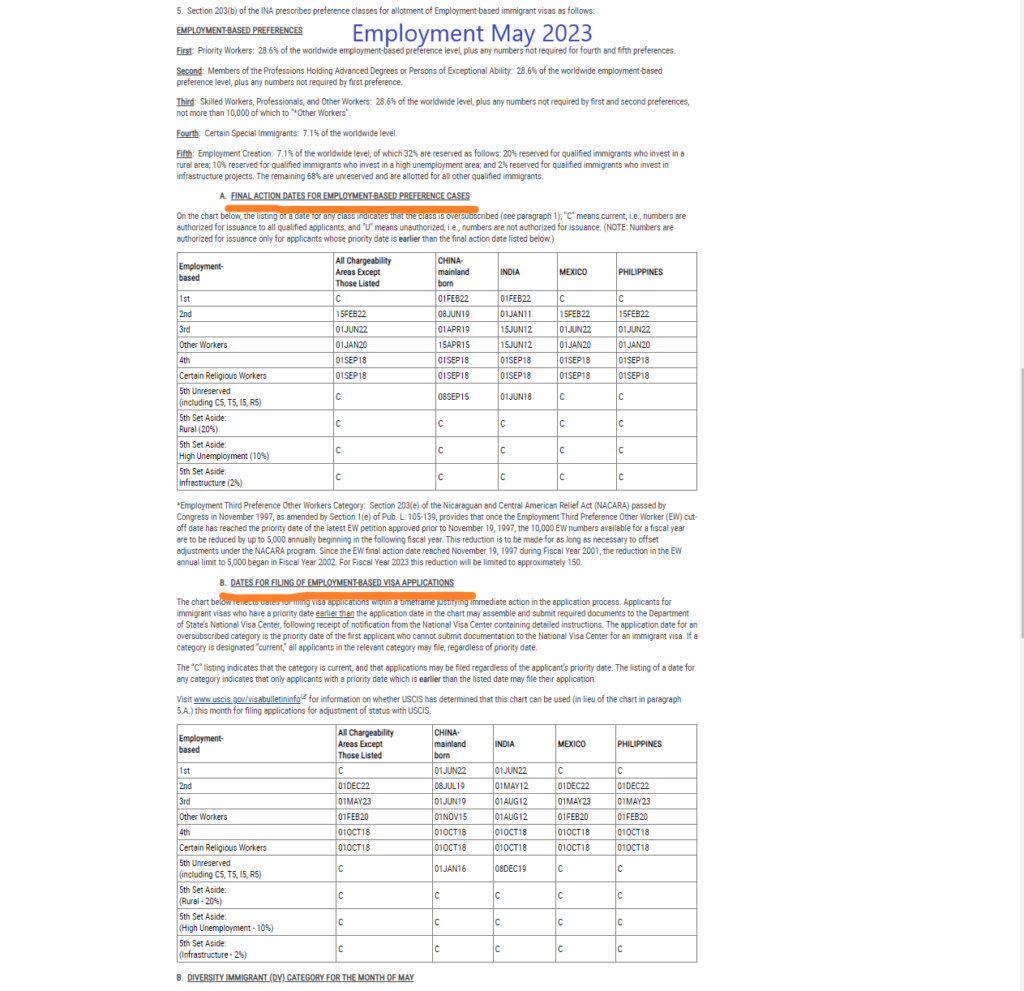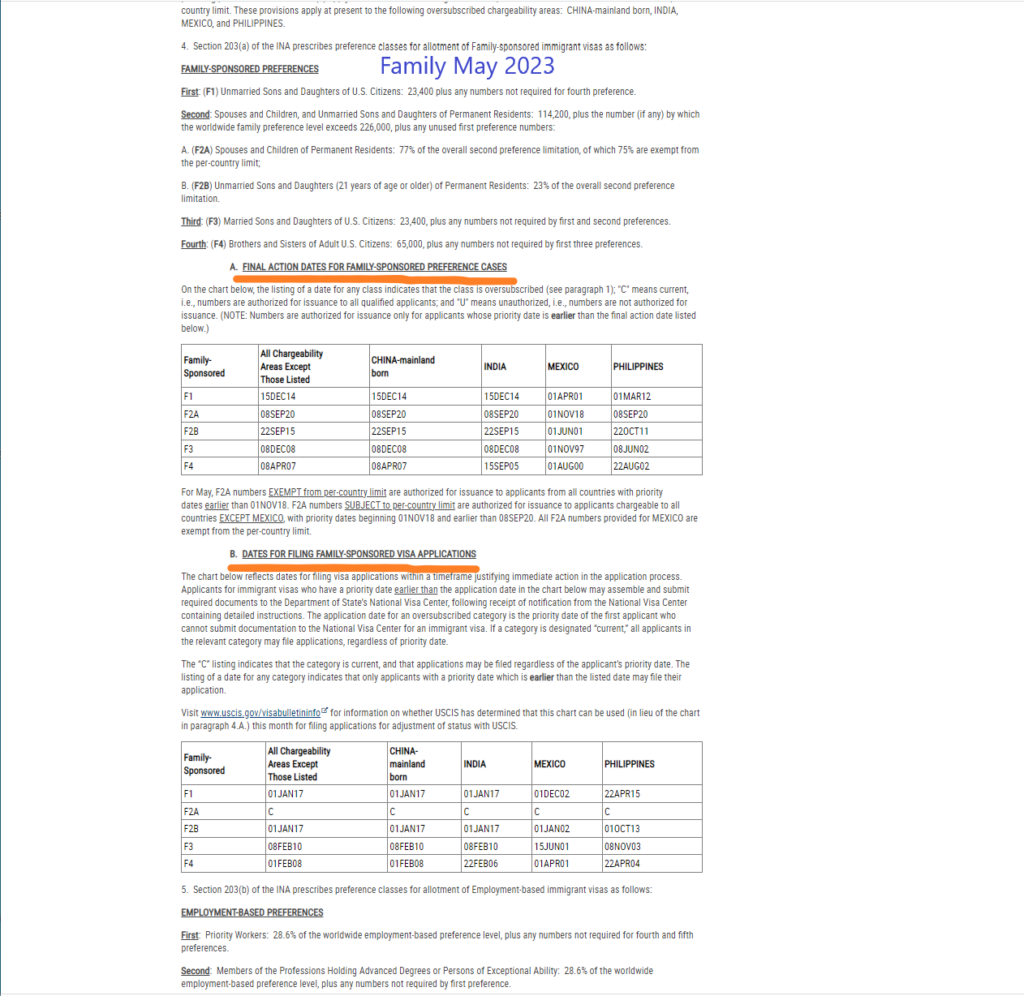 April 2023
There is now a cut-off date for F2A. USCIS is still accepting F2A-based I-485 this month, but not in May. DOS anticipates further EB-2 retrogression.
For I-485 filings in April 2023, please follow the dates for filing chart for Family-based applications and the final action dates chart for Employment-based applications.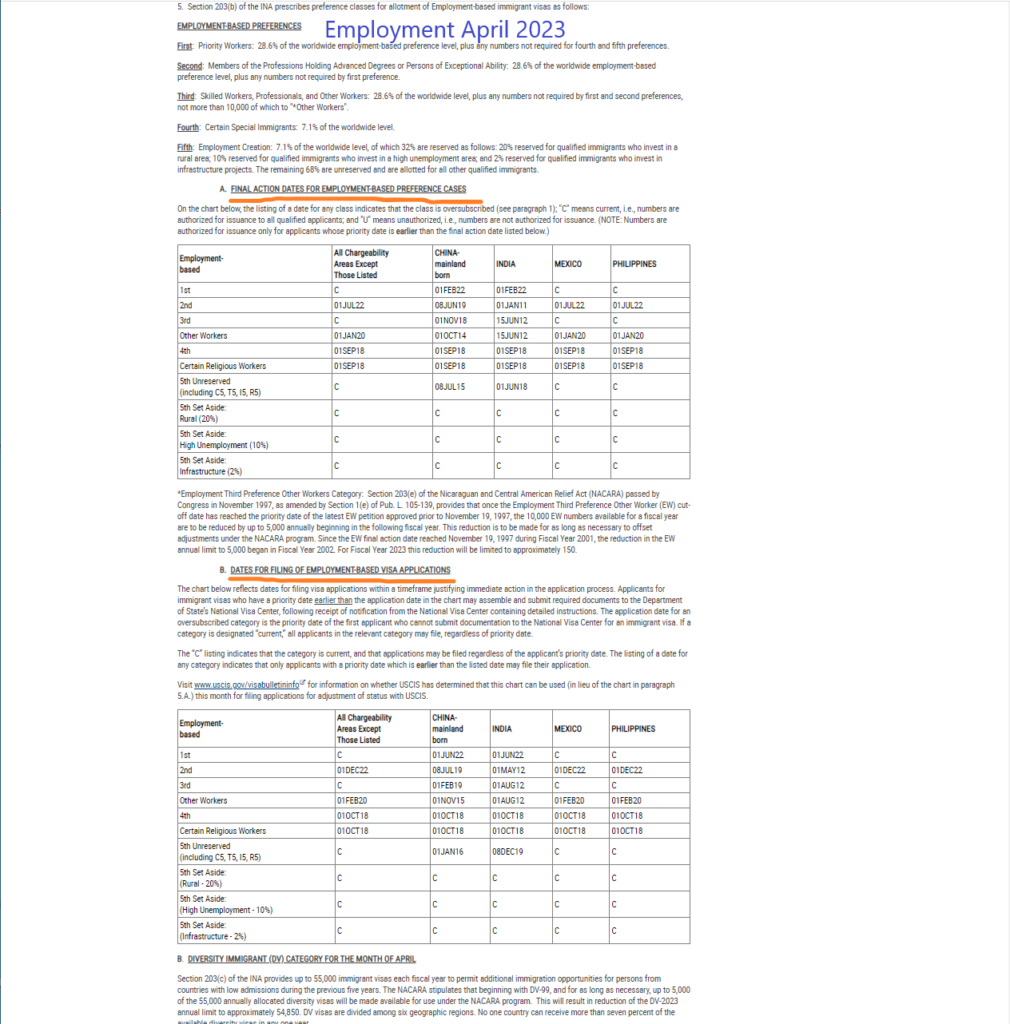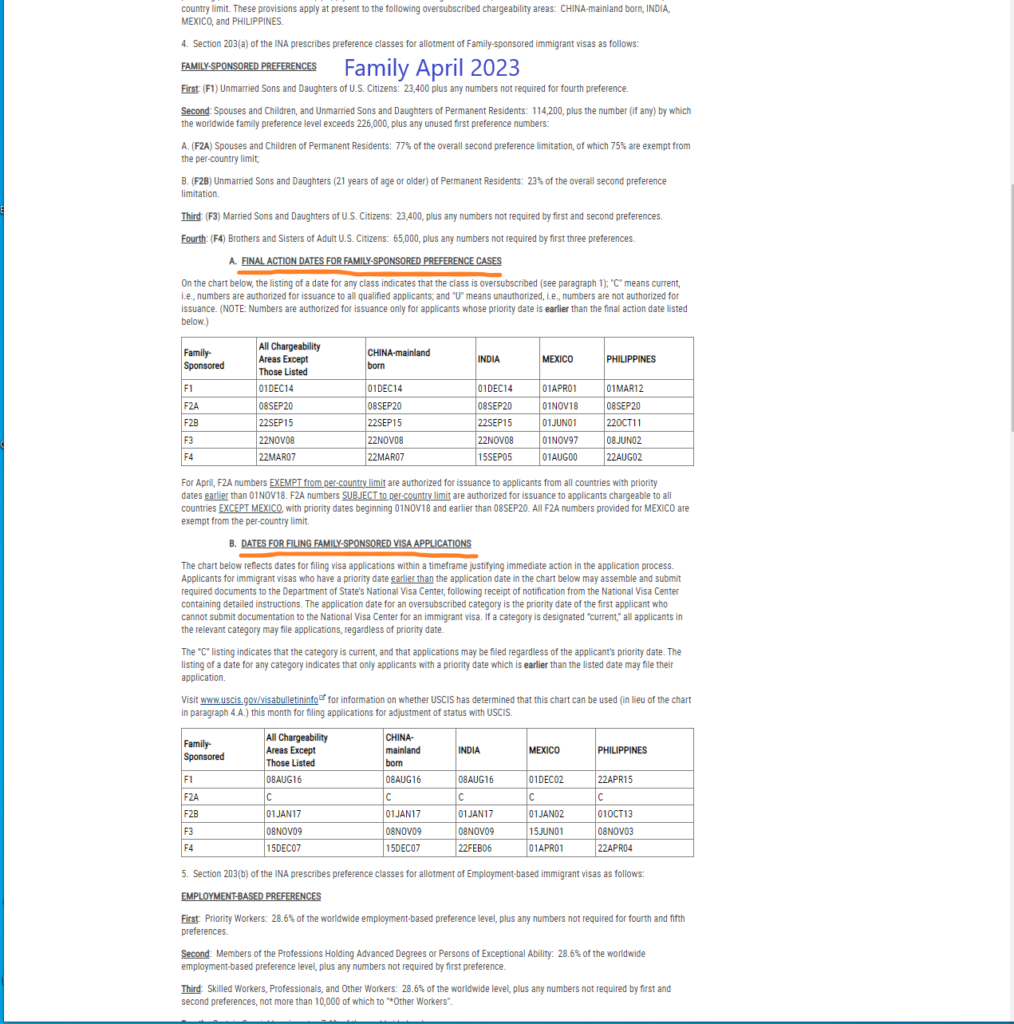 March 2023
No major changes from February. Still no cut-off date for F2A. But DOL expects one soon. EB2 for all is expected to retrogress due to the high number of use. EB3 for all will also retrogress in the coming months.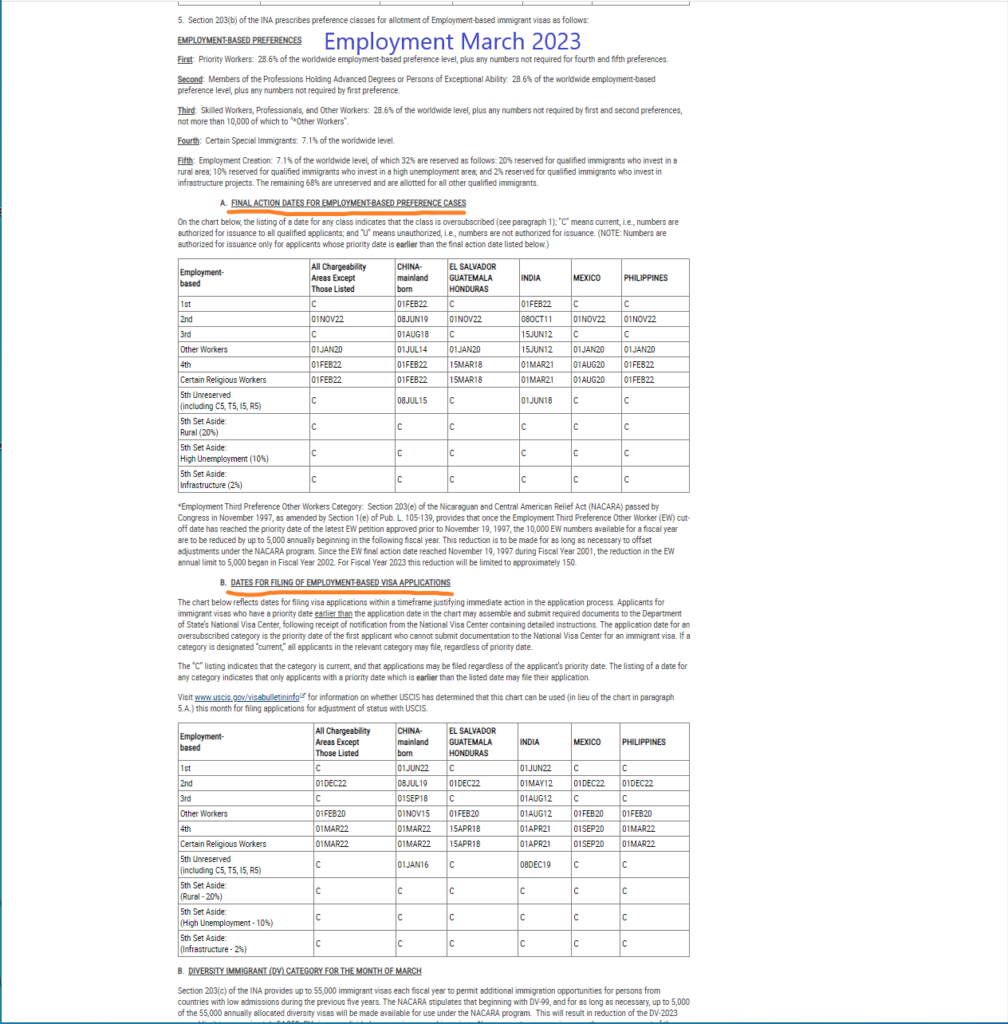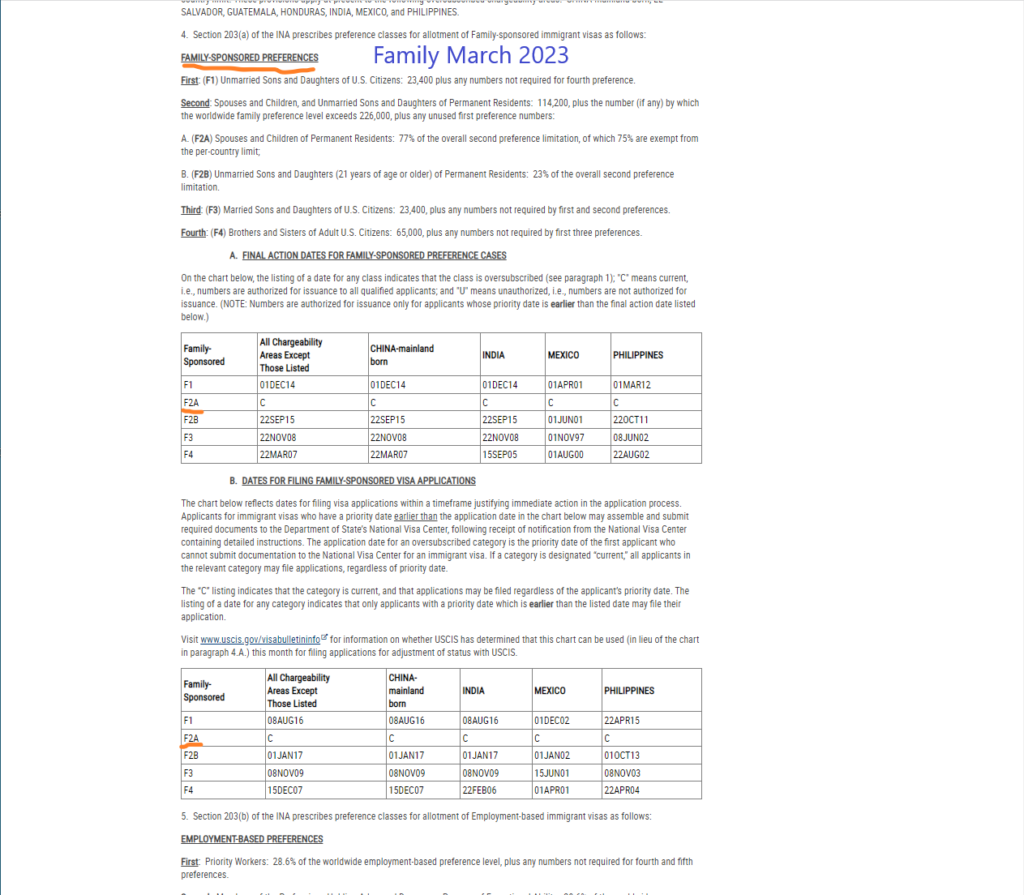 February 2023
F2A category will likely see a cutoff date in March. If you are a green card holder and have an opportunity to petition for your noncitizen spouse, you may consider filing it as soon as possible.
EB3 other works is expected to retrogress further.
EB4 SR category has been extended until 09/30/2023. The category is now available.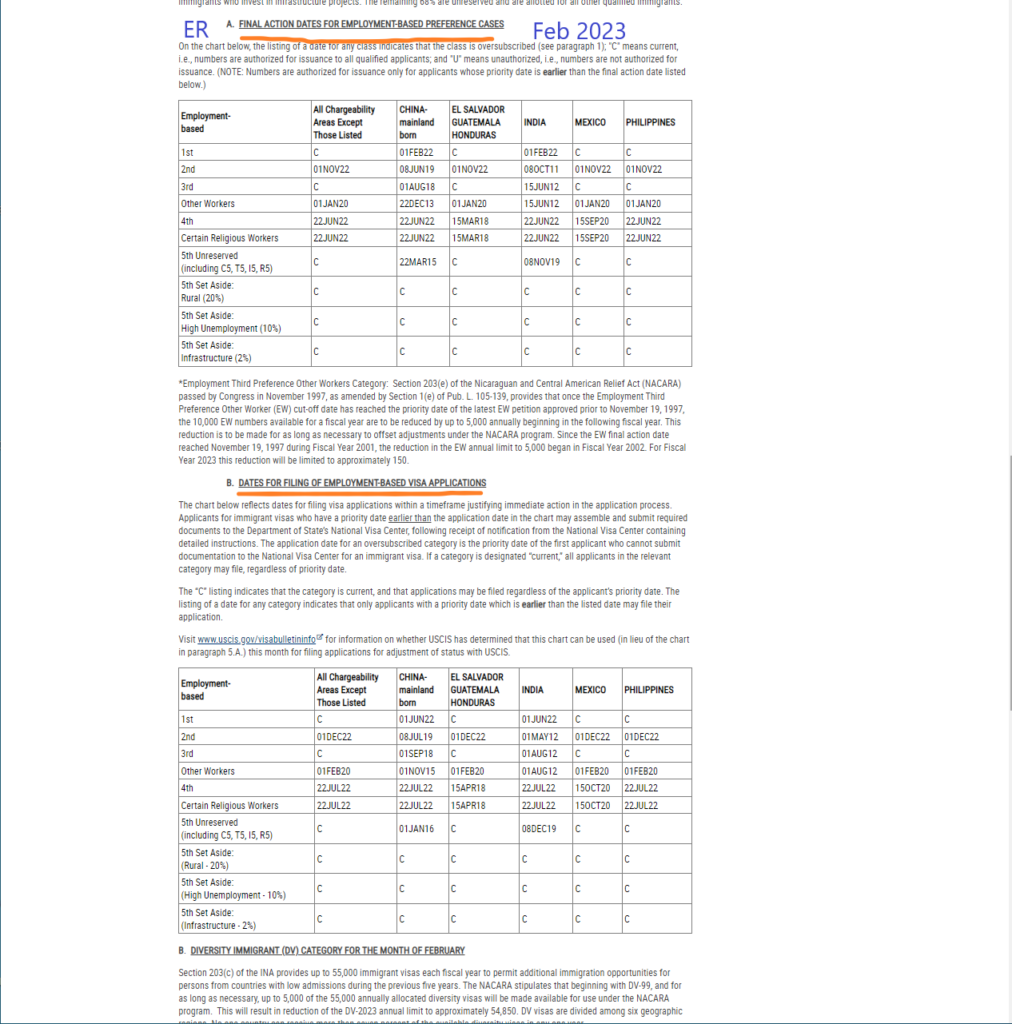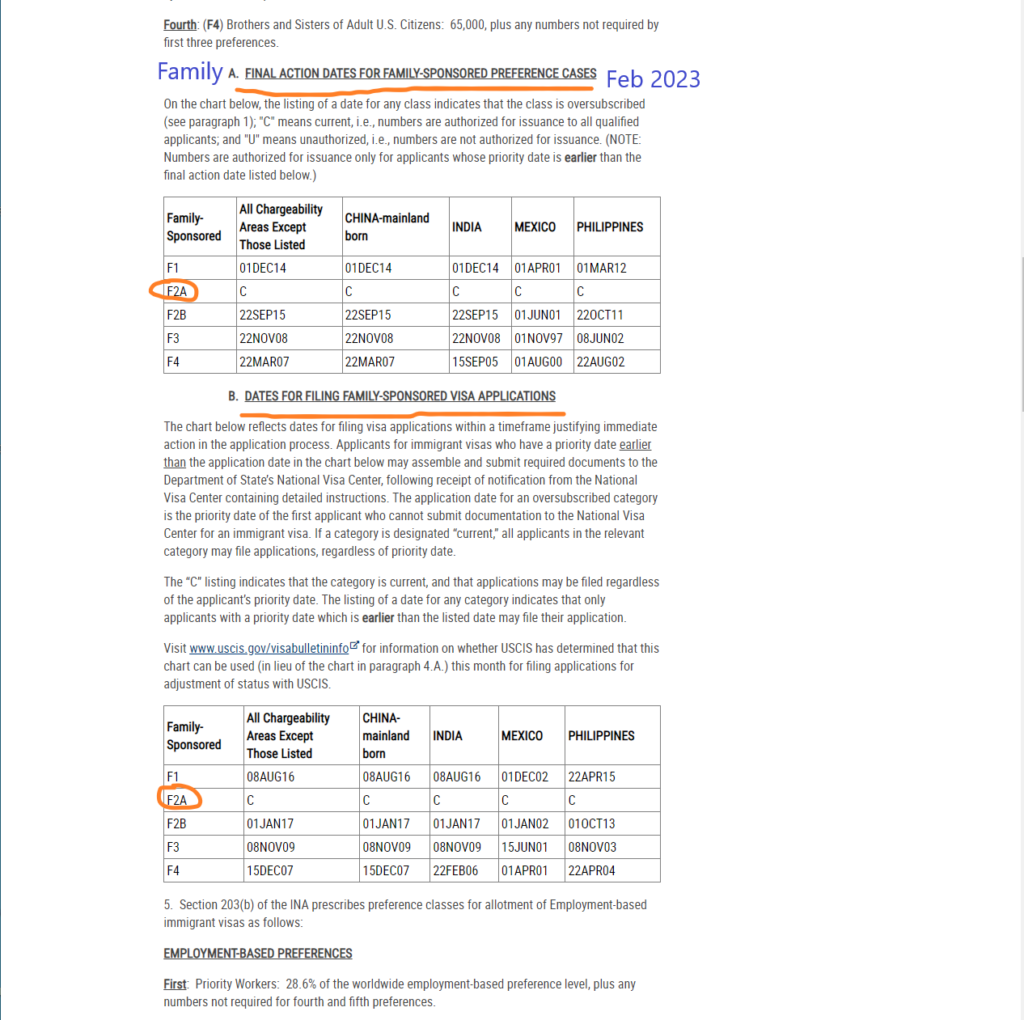 January 2023
USCIS has announced that for January 2023, both family-based and employment-based adjustment applicants must use the Dates for Filing chart.
EB1 now has a cut-off date for Indian and Chinese Nationals. Dates of filing: 06/01/2022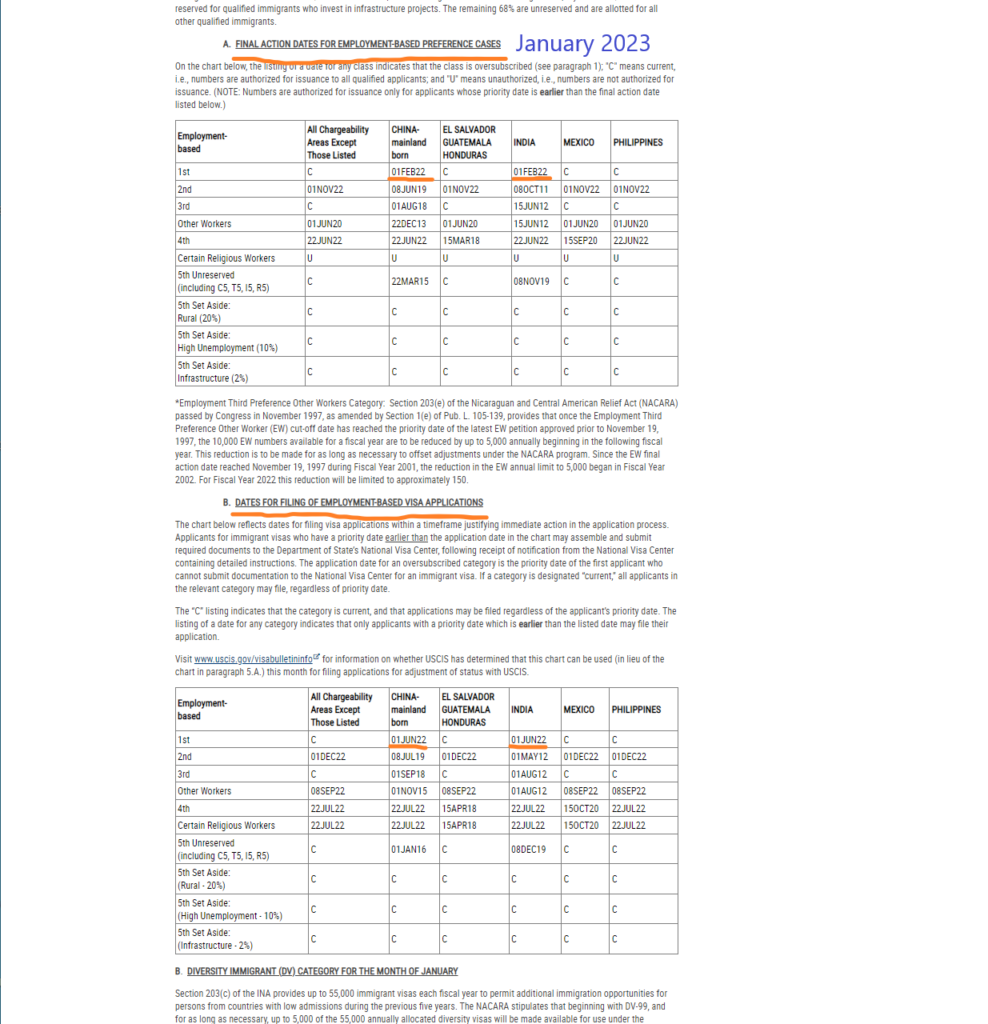 December 2022
USCIS has announced that for December 2022, both family-based and employment-based adjustment applicants must use the Dates for Filing chart.
EB1 no longer "C" (current) for Chinese and Indian nationals in the next few months.
The estimated annual limit for FY 2023 is 197,000.
New worldwide EB2 final action and filing dates due to heavy demand.
EB2 India Final Actional and Application dates retrogress.