Update August 4, 2023
In this update, we have a sample I-485 EB approval for an EB3 skilled worker application. This case was filed on December 19, 2022, and it was approved on July 26, 2023. It took a total of 7 months in processing time, which is significantly shorter than posted timeframes on USCIS's website.
It's important to note that the USCIS is currently making concerted efforts to reduce its backlog of pending I-485 cases. As part of this initiative, many cases are being forwarded to field offices that are outside of the applicant's local jurisdiction. This reshuffling of workload is aimed at managing the high volume of pending applications more efficiently. Consequently, it may be challenging to identify exactly where your case is being processed and what the precise posted timeframe might be.
For applicants whose receipts list the National Benefits Center (NBC), keep in mind that if you've filed an employment-based or family-based Form I-485, a Form N-400, or a Form N-600, the processing times for your local field office are likely more pertinent. You can use the USCIS's Field Office Locator to determine your local office. However, due to the ongoing reshuffling of cases, a broader estimate might be more practical. In our quick check of some local field offices, the processing times range between 15 to 30 months.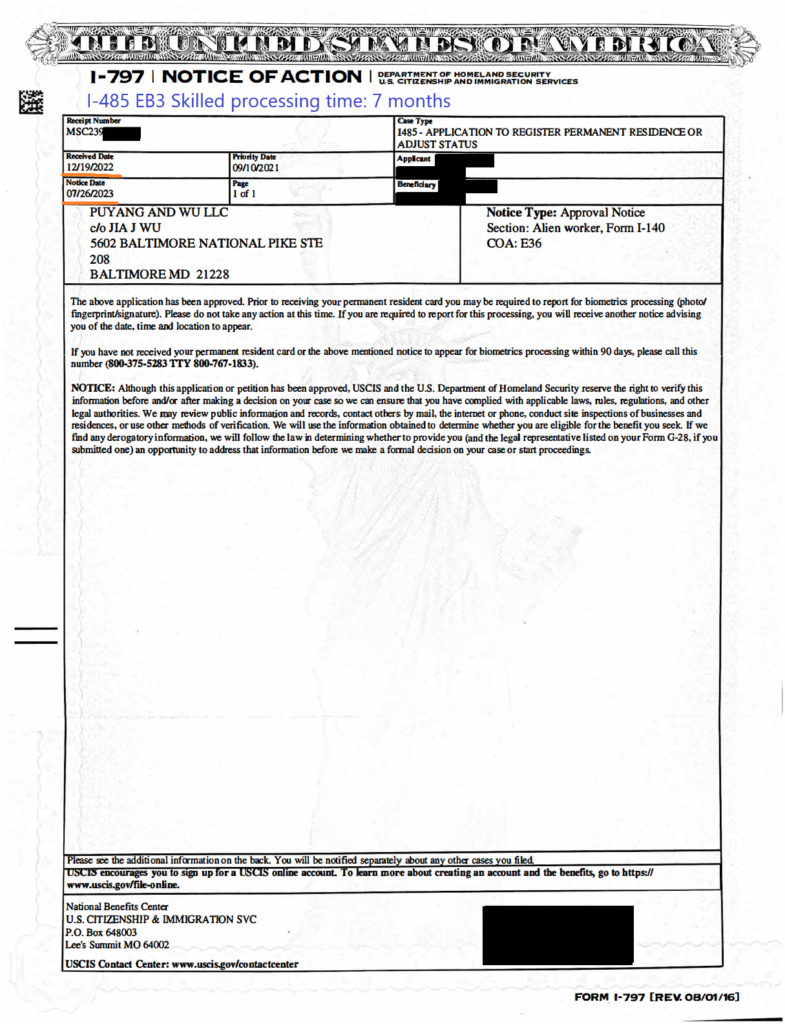 While these data points provide a ballpark figure, remember that processing times can fluctuate based on individual case specifics and the processing capacity at various field offices. The processing timeline of some cases might be shorter, while others may take longer.
As we are about to reach the end of FY 2023 (September 30, 2023), know that the employment-based annual limit for FY 2023 is 197,000, a figure lower than those of FY 2022 and FY 2021, but higher than pre-Covid years.
Update July 21, 2023
Sample I-131 (advance parole) processing time (filed with an employment-based I-485).
USCIS Posted Processing Time at NBC
According to USCIS's data from NBC, 80% of I-131 applications are processed within an estimated timeframe of 11.5 months. However, this timeline is a general estimate and actual processing times can vary based on individual case specifics.
Our Sample
Contrasting the USCIS estimate, our sample case, processed at the NBC with a filing date of December 19, 2022, and an approval date of July 11, 2023, took a total of 7 months for approval. This underlines that actual processing times at NBC can be notably shorter than the posted USCIS estimates.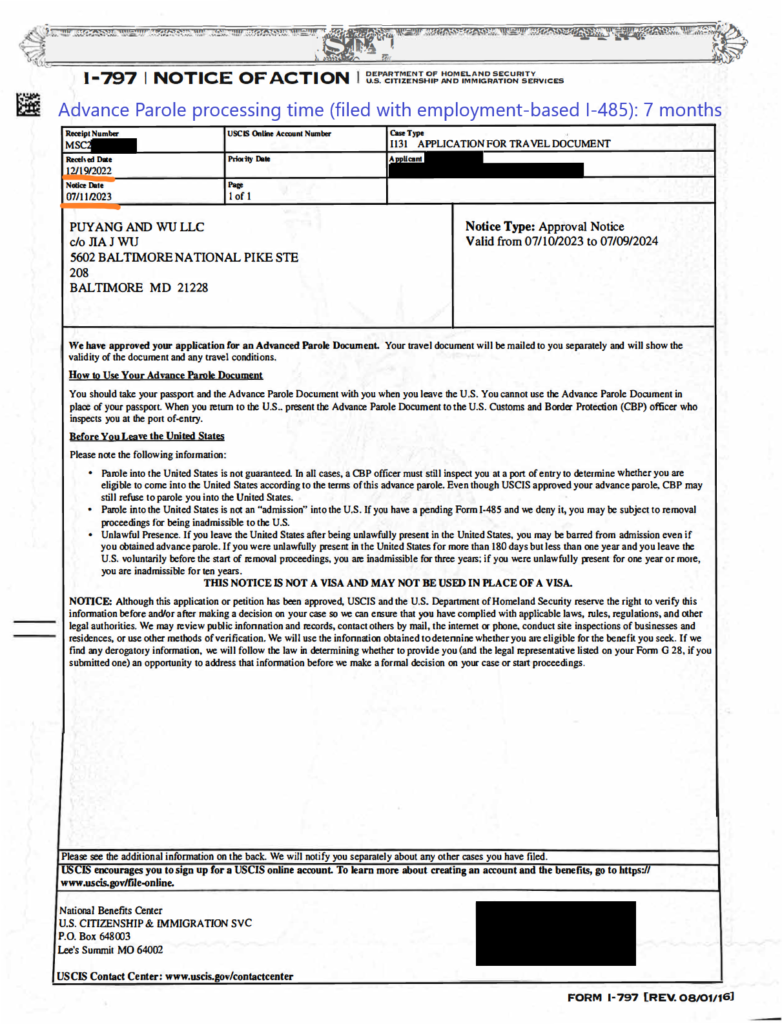 Update July 7, 2023
Some more sample I-765 approvals showing processing time of about 6 months. Posted time frame is about 11.5 months at National Benefits Center and 17 months at Texas.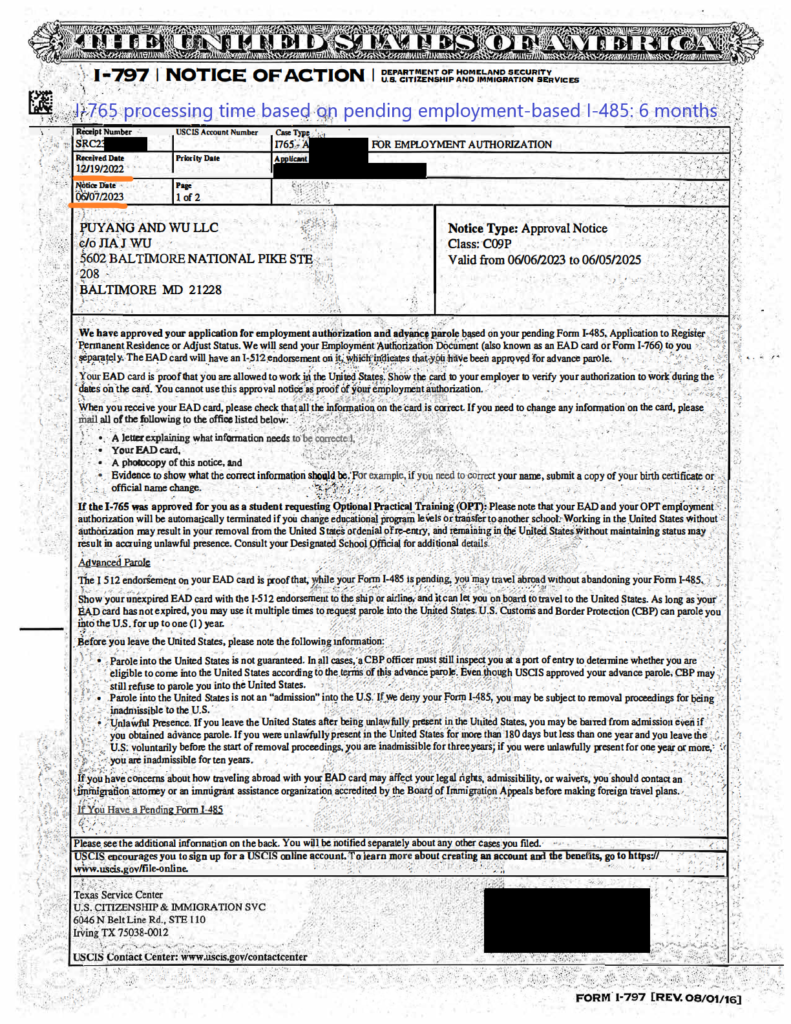 Update February 17, 2023
Here are some I-765 EADs based on the pending I-485s filed FY 2023. Fairly quick. Took less than 4 months. I-131 Advance paroles were also approved at the same time.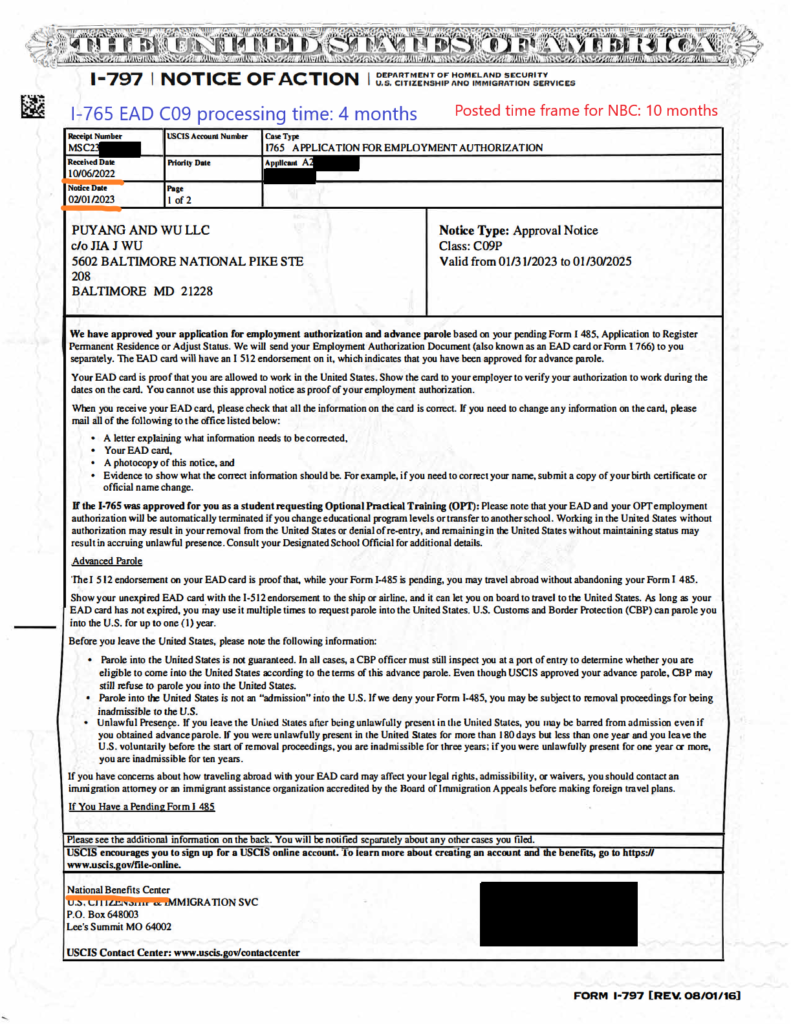 Original Post November 3, 2022
This post will provide sample processing timeframes for employment-based I-485s filed in FY 2023 (October 1, 2022 to September 30, 2023). Processing time for the previous fiscal years is here: I-485 EB Processing Update
We only have sample receipt notices for now but later updates will include approvals. Currently, it's taking up to 3 weeks to receive receipt notices.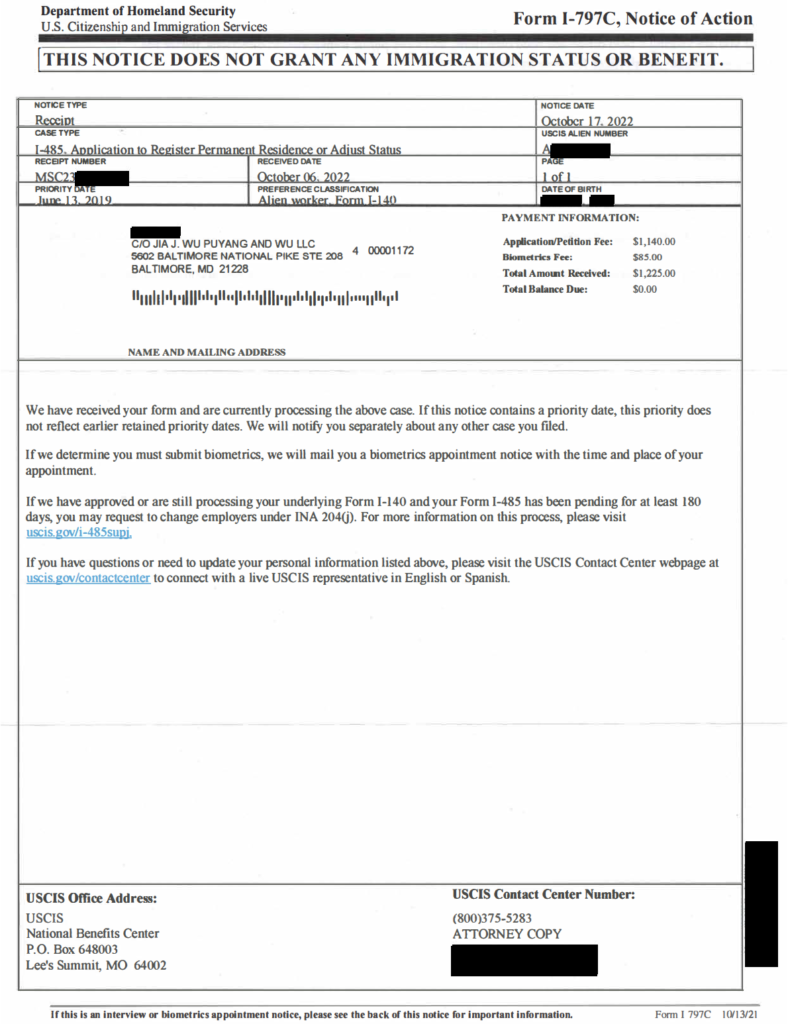 Also, the employment-based annual limit for FY 2023 will be 197,000, lower than FY 2022 and FY 2021, but higher than pre-covid years.