Update July 7, 2022
USCIS has informed the public that some applicants may have received incorrect receipt notices showing the outdated 180-day automatic extension instead of the current 540-day automatic extension. The incorrect receipt notices were issued between May 4, 2022 and June 2, 2022.
Affected applicants should be receiving the correct notices by the third week of July.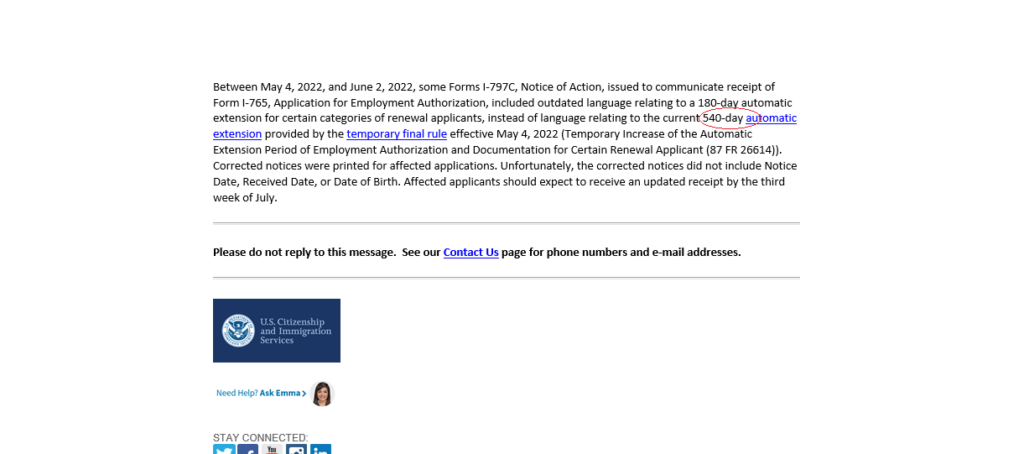 Sample corrected I-765 receipt notie showing 540-day extension and sample letter about the correction.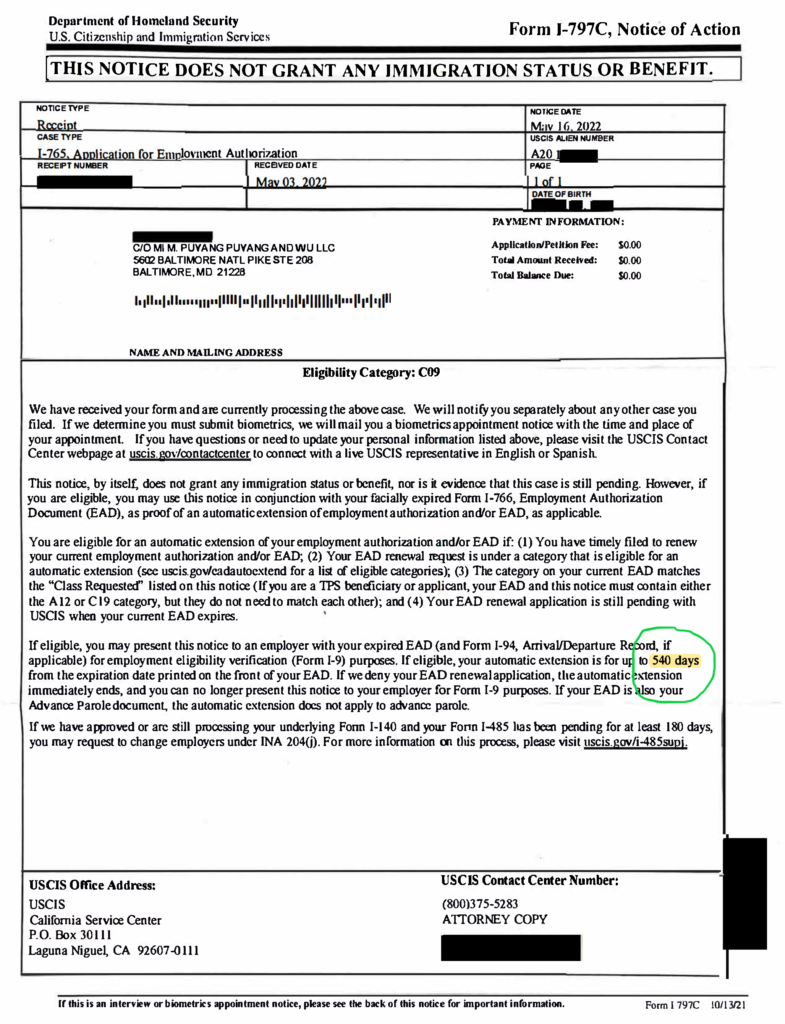 Original Post May 4, 2022
Starting May 4, 2022, USCIS will increase the automatic extension period for employment authorization and Employment Authorization Documents (EADs), available to certain EAD renewal applicants, to up to 540 days.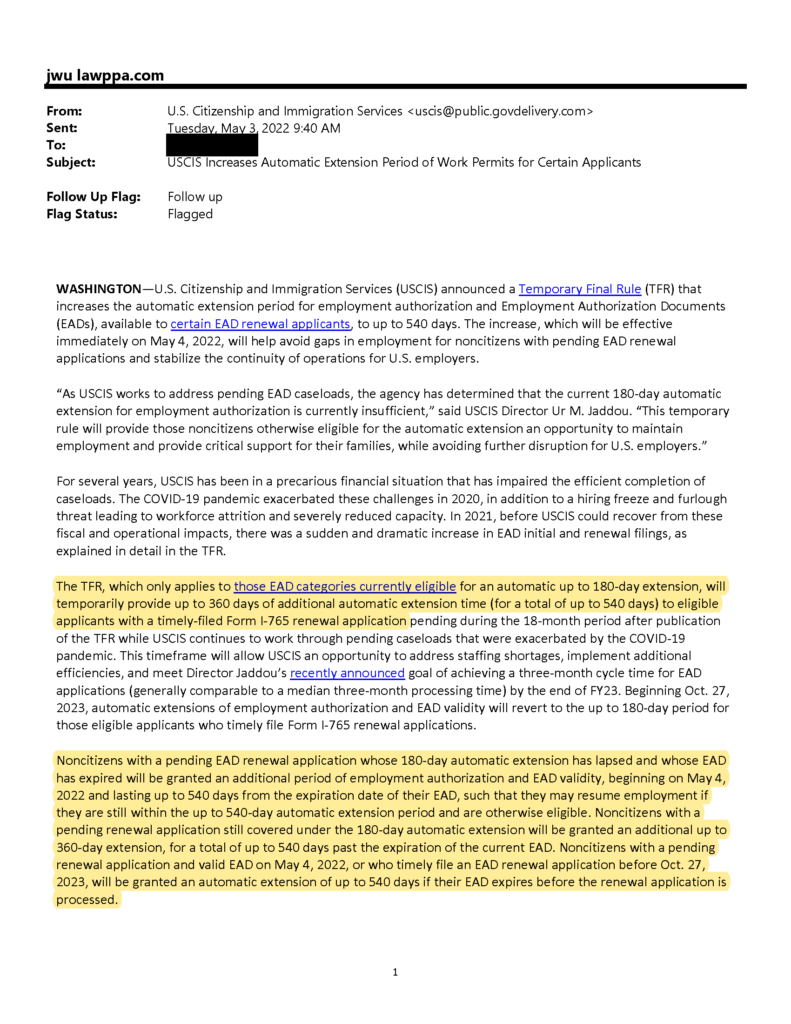 The following employment eligible categories are eligible for an automatic:
The eligibility category you listed on your Form I-765 renewal application
Description
(a)(3)
Refugee
(a)(5)
Asylee
(a)(7)
N-8 or N-9
(a)(8)
Citizen of Micronesia, Marshall Islands, or Palau
(a)(10)
Withholding of Deportation or Removal Granted
(a)(12)
Temporary Protected Status (TPS) Granted
(a)(17)
Spouse of principal E nonimmigrant with an unexpired I-94 showing E nonimmigrant status1
(a)(18)
Spouse of principal L-1 Nonimmigrant with an unexpired I-94 showing L-2 nonimmigrant status2
(c)(8)
Asylum Application Pending
(c)(9)
Pending Adjustment of Status under Section 245 of the Act
(c)(10)
Suspension of Deportation Applicants (filed before April 1, 1997)
Cancellation of Removal Applicants
Special Rule Cancellation of Removal Applicants Under NACARA
(c)(16)
Creation of Record (Adjustment Based on Continuous Residence Since January 1, 1972)
(c)(19)
Pending initial application for TPS where USCIS determines applicant is prima facie eligible for TPS and can receive an EAD as a "temporary treatment benefit".
(c)(20)
Section 210 Legalization (pending I-700)
(c)(22)
Section 245A Legalization (pending I-687)
(c)(24)
LIFE Legalization
(c)(26)
Spouses of certain H-1B principal nonimmigrants with an unexpired I-94 showing H-4 nonimmigrant status
(c)(31)
VAWA Self-Petitioners
USCIS will provide up to 360 days (for a total of up to 540 days) of additional automatic extension time to eligible applicants with a pending EAD renewal application on the temporary rule's effective date and for 540 days thereafter. This temporary increase of automatic extension ends on October 26, 2023.
Applicants with pending I-765 renewal applications as of May 4, 2022, will not receive a new receipt notice reflecting the increased EAD automatic extension period. However, Form I-797C notices that refer to a 180-day automatic extension will still meet the regulatory requirements for employment authorization. Therefore, individuals who show Form I-797C notices that refer to a 180-day extension, along with their qualifying EADs, still receive the up to 540-day extension under this rule.