Update 04/05/2023
Processing time for Baltimore Field Office remains unchanged—about 7 to 8 months from filing to the interview date. Posted time frame has improved.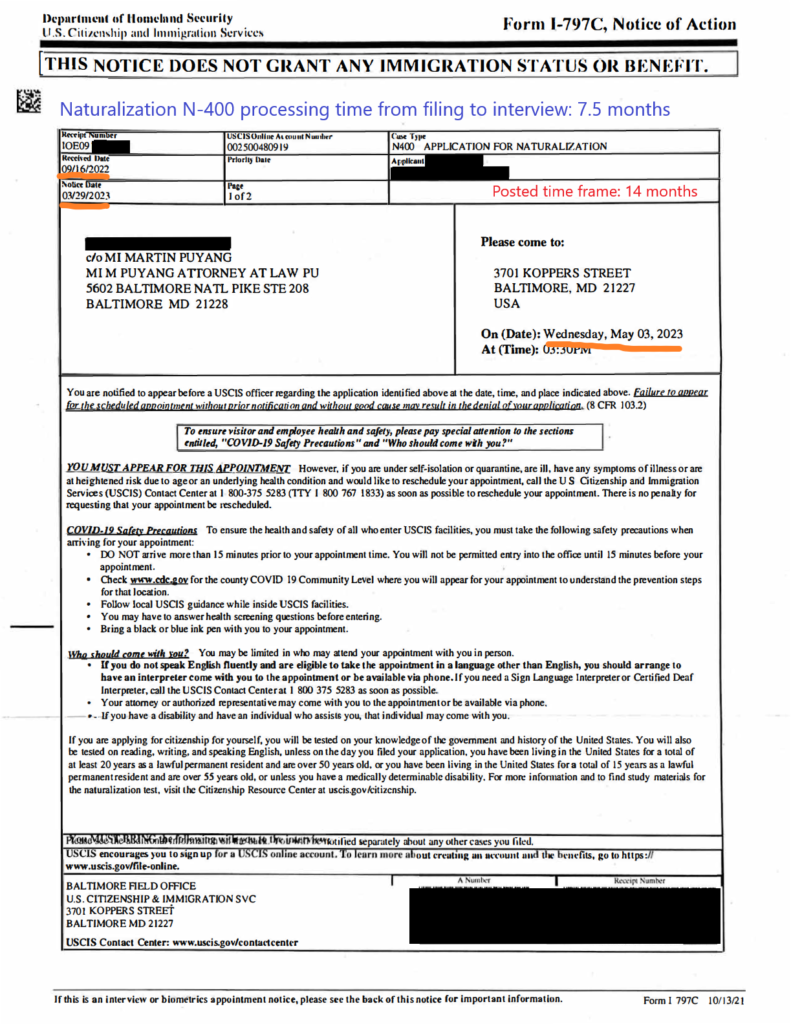 Update 01/27/2023
Here's a recent sample for the Baltimore Field Office showing processing time from filing to interview in about 7 months.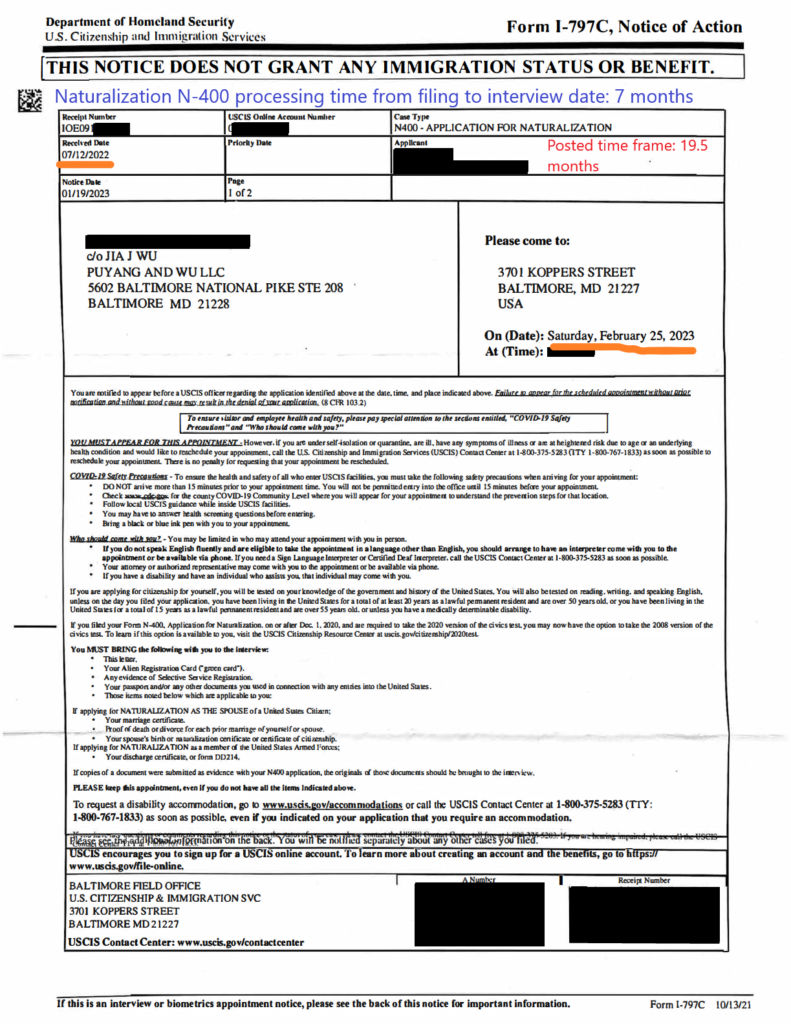 Update 01/16/2023
USCIS continues to adjudicate naturalization applications faster than what's posted. Here's a sample showing the naturalization time frame from filing to interview at just 3 months. The case is processed at the Philadelphia field office. Posted time frame is 15.5 months.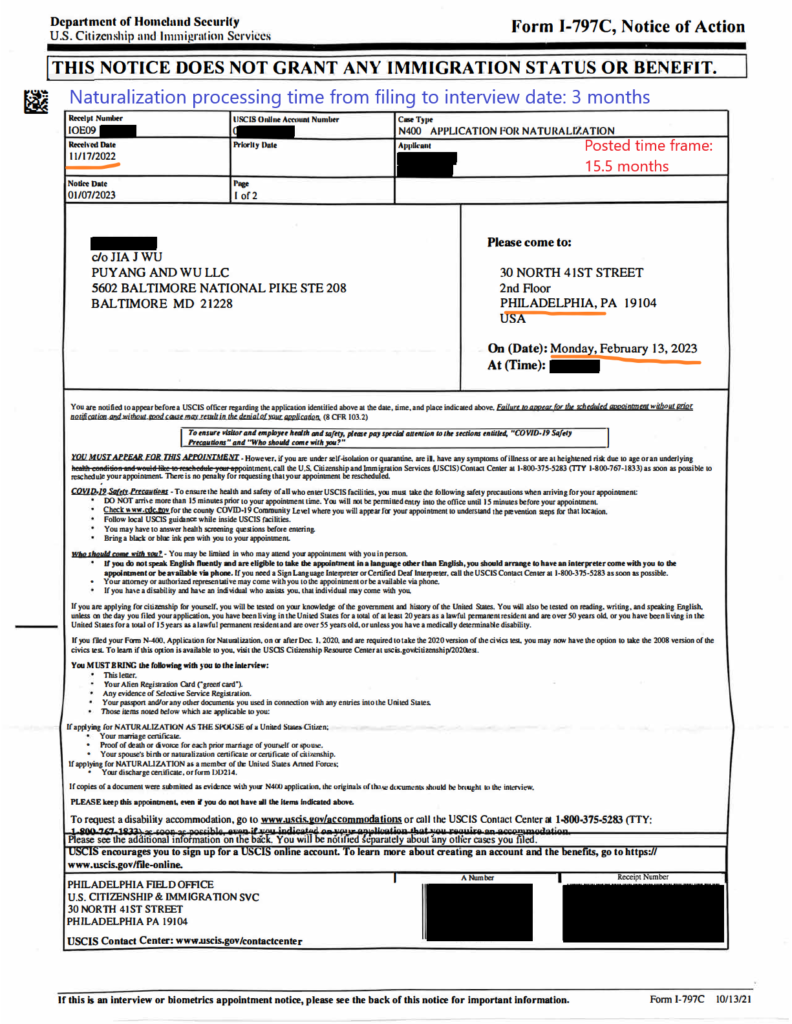 Update 12/09/2022
Recent N-400 Naturalization at the Baltimore field office took about 6 months from filing to interview notification.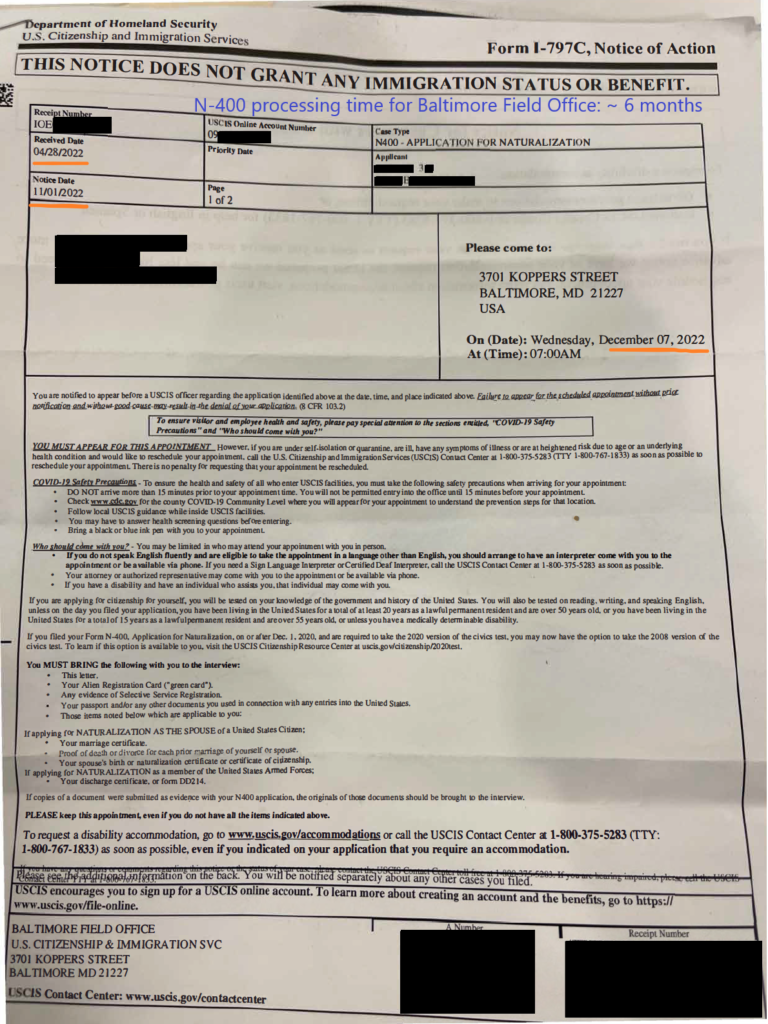 Update 09/20/2022
Update 06/28/2022
Update 03/11/2022
Update 02/16/2022
Update 10/21/2021
Update 08/30/2021
We have some more processing updates of pending naturalization cases at the Baltimore Field Office. Below are two interview notices scheduled for 10/01/2021. One was filed on 09/28/2020 and the other on 11/27/2020. Applications filed in 2020 generally takes about a year or longer for adjudication, whereas cases filed in 2021 are processed much faster.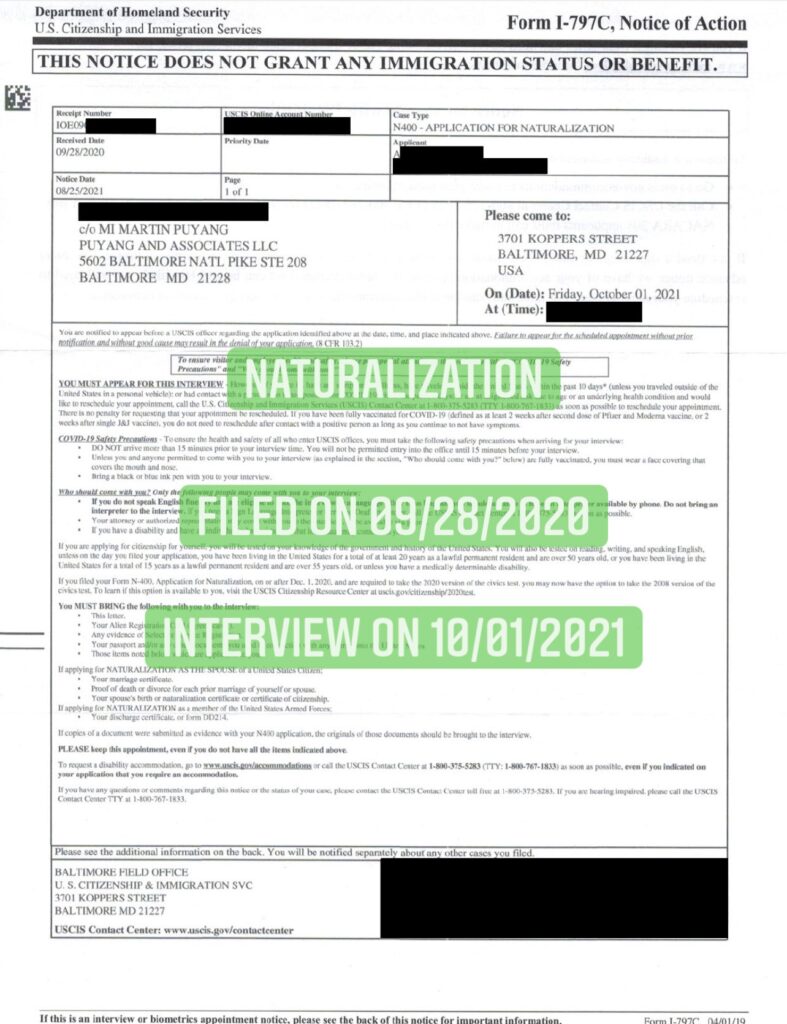 Update 08/24/2021
We received a Naturalization Interview notice scheduled for 08/30/2021. The application was filed on July 13, 2020, more than a year ago.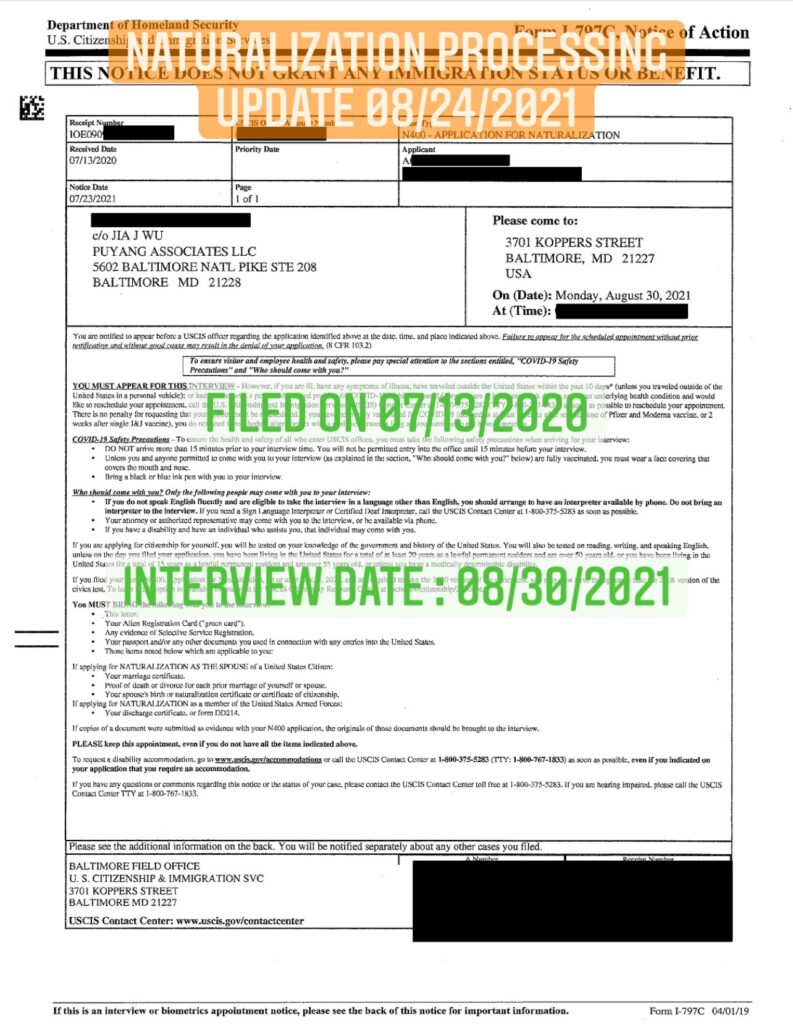 Update 08/16/2021
To those who are waiting for their naturalization to be completed, know that some cases get delayed for no discernible reason. After repeated inquires with USCIS, we finally received the oath ceremony notice for our client.
This naturalization application was filed in March 2020. Applicant attended naturalization interview in December 2020. Oath Ceremony was finally scheduled for this month. The total wait time from filing to becoming a citizen: 1 year and 5 months.
Update 07/16/2021
We received an interview notice for the naturalization application that was filed in September 2020. Almost one year wait. But cases filed this year are processed much faster (see below).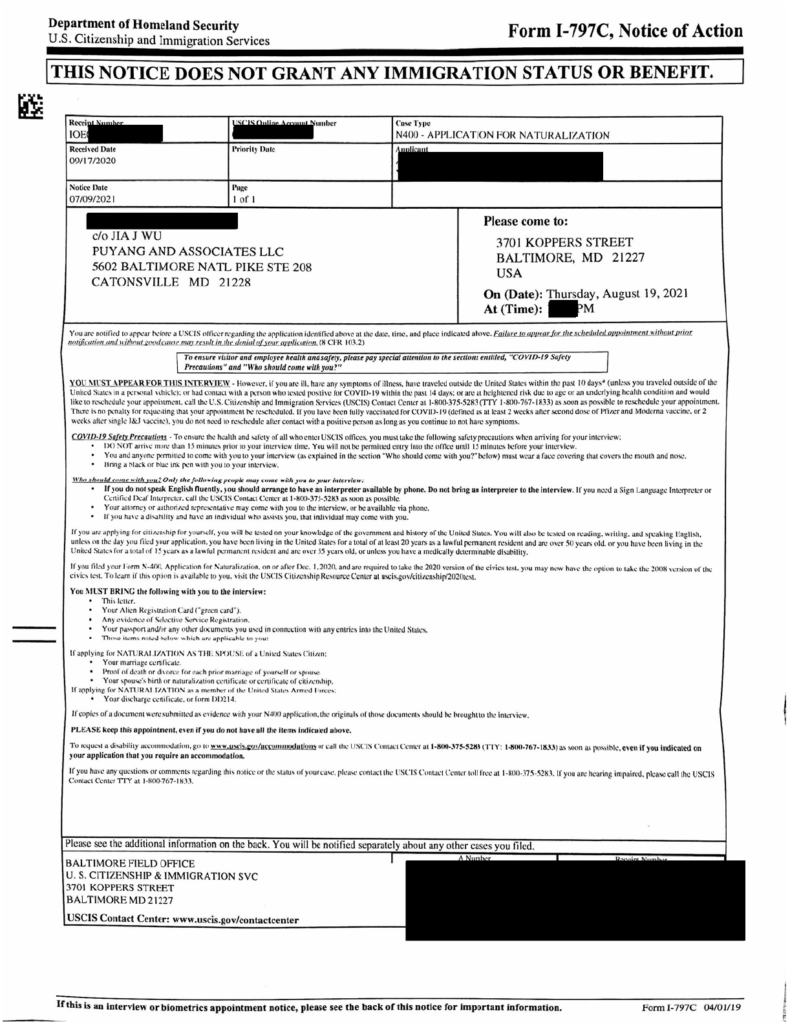 Original Post 07/08/2021
There seems to be a trend where recently filed naturalization applications are being processed faster than cases filed last year.
We have two cases filed in March and April of 2021 and both interviews have been scheduled to take place in July and August, respectively.
However, there are also multiple N-400s filed last year from July to December that are still pending and waiting for an interview. All interviews will take place in Baltimore, MD