Update: March 17, 2021
USICS issued the following clarifications in light of inconsistencies that were discovered on Form I-821 instructions and the Federal Register Notice
Mailing Zip Code Correction
The zip code listed in the Federal Register was incorrect. The correct USPS filing addresses are located in the "Where to File" dropdown box on the TPS-Venezuela page on USCIS.gov.
Biometrics fee clarification
Applicants under 14 years of age do not pay a biometric fee with their initial I-821 or initial I-765. The below filing fee chart, located on the USCIS Form I-821 page, is correct for all initial applications.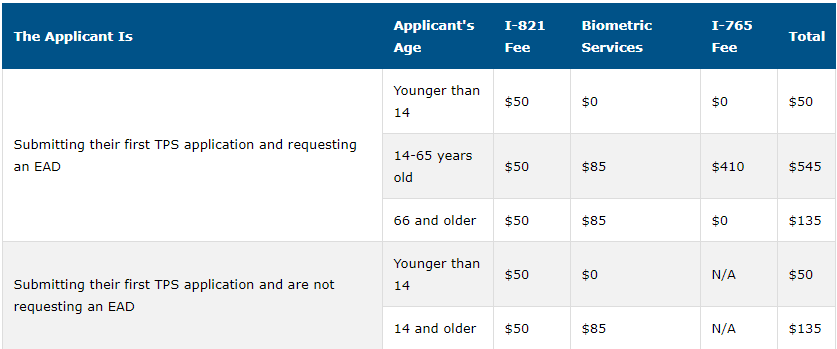 Additional clarifications
On Form I-821, Part 4 (current spouse) and Part 5 (former spouses) are only required for late initial applications (applications filed after the initial registration period has ended). Also stated on the Form I-821 is that Part 6 (children) only applies to late initial applications, but the form instructions do not make this distinction as it does for Parts 4 & 5. 
Venezuela is now simultaneously covered by Temporary Protected States (TPS) and Deferred Enforced Departure (DED). Both programs protect from removal and EADs can be requested based on either. Generally, TPS will provide more benefits then DED alone
---
Original: Posted March 8, 2021
On March 8, 2021, DHS published a Federal Register Notice announcing the designation of Venezuela for Temporary Protected Status (TPS) for 18 months, effective March 9, 2021, through Sept. 9, 2022.
This new designation of TPS for Venezuela enables Venezuelan nationals (and individuals without nationality who last resided in Venezuela) currently residing in the United States to file initial applications for TPS, so long as they meet eligibility requirements.
Only individuals who can demonstrate continuous residence in the United States as of March 8, 2021 are eligible for TPS under Venezuela's designation. This is important because TPS is not available to those enter the US after March 8, 2021.
Individuals desiring TPS must file an application with U.S. Citizenship and Immigration Services within the 180-day registration period. They may also apply for Employment Authorization Documents (EADs) and for travel authorization. All individuals applying for TPS undergo security and background checks as part of determining eligibility.
More details about the eligibility criteria to submit an initial TPS application and apply for an EAD will be released soon.